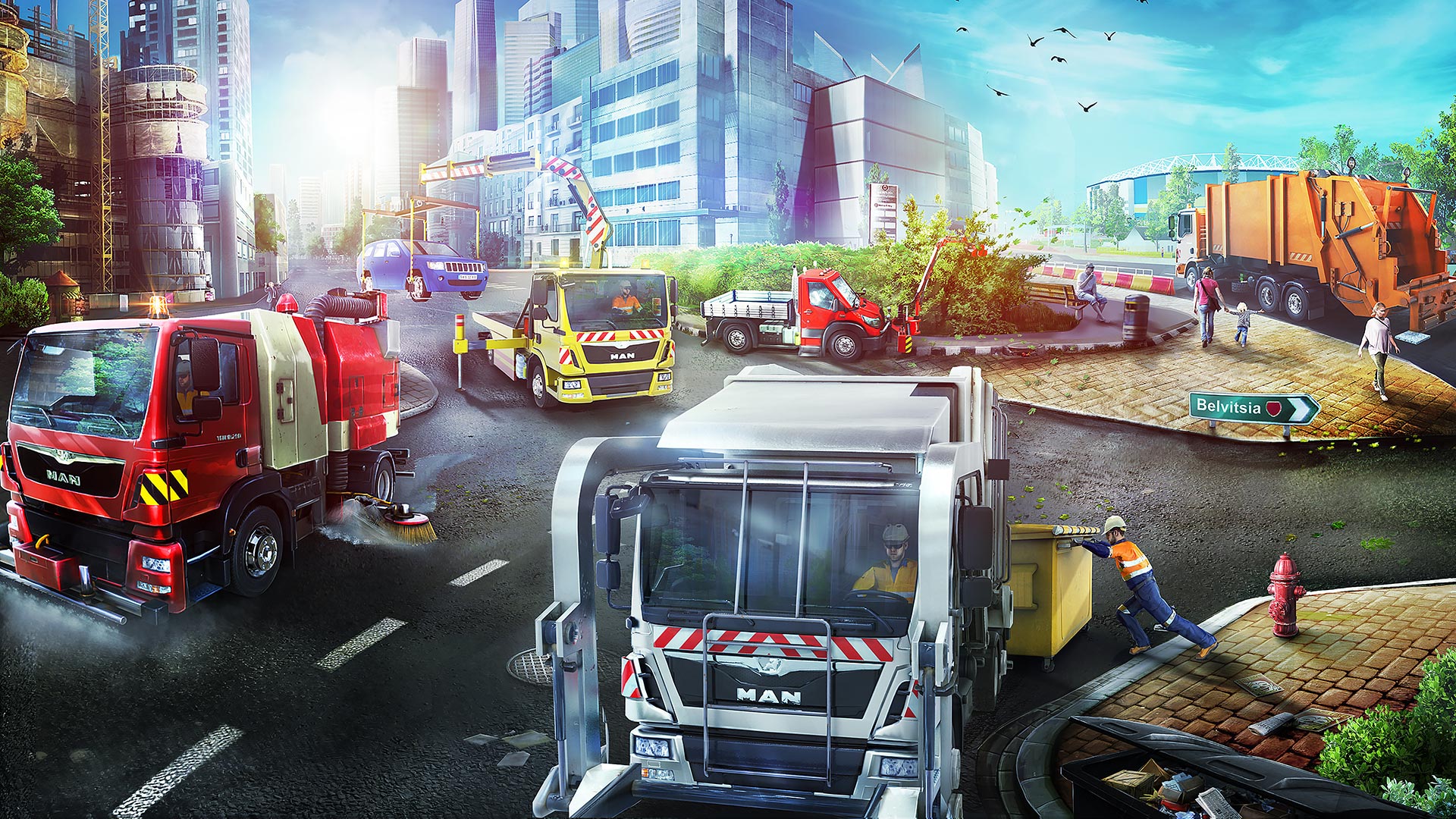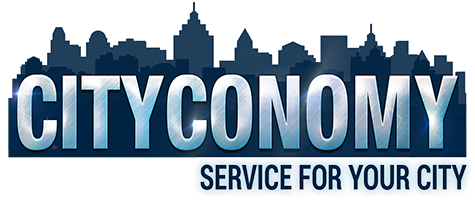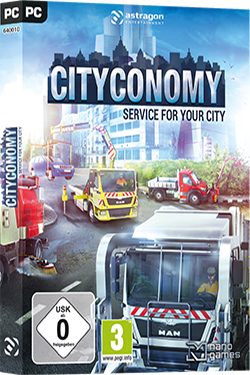 CITYCONOMY: Service for your City
Please choose a platform:
Single-Player
Achievements
Trading Cards
Partial Controller support
Cloud
Please note that the purchased product will contain a Steam-key. After the purchase you will receive the key with all needed instructions via e-mail.
Time to clean up! Assume the many jobs of a service company and take care of a vibrant metropolis in the open-world city economy simulation CITYCONOMY. For you, that means: From the classic trash collection to drain cleaning, from towing services to lawn mowing, there's a wide range of missions available across the entire city! A total of 15 vehicles await you, even in multiplayer!
Explore a huge, open-world city with its various districts, such as the old town, industrial park and residential neighborhood. You'll find new tasks for your constantly growing fleet all over the city. If the residents are satisfied with you, you'll gain access to new skills, jobs and machines.
Complete realistic jobs in the field of city economy, such as towing cars, cleaning drains, improving roads and trimming hedges, all together with your friends in multiplayer mode. Complete the tasks and ensure that the city's residents are happy and satisfied. Build a company that generates profits and is a pillar of the local economy.
Up to 5 players can take part in multiplayer matches. The player who starts the game acts as the host. Complete a diverse spectrum of jobs together with your friends, or simply have fun in the open world.
What are you waiting for? Get behind the wheel of faithfully recreated vehicles from MAN and start the engine!
Authentic simulation of municipal services such as trash collection, car towing, sewage and gardening
Open-world city with an industrial park, commercial center, suburbs, old town and residential district
Realistic weather system
Day and night cycle
Cooperative multiplayer mode for up to five players, including voice chat
Faithfully recreated vehicle models from MAN's current TGL and TGM series
Varied, dynamic job system, side quests, experience tree and management section
Windows 7, 8, 10
64-bit support, 32-bit operating systems are not supported
Quad-core Intel Core i7 processor with 3.6 GHz or better
DirectX 11-compatible graphics card (NVIDIA GeForce GTX 780 or better)
6 GB RAM main memory
3.5 GB hard disk space
Mouse, keyboard
DVD-ROM drive
Internet connection and Steam account
Manufactured under license from MAN © 2015 astragon Entertainment GmbH & Nano Games sp. z o.o. Published and distributed by astragon Entertainment GmbH. CITYCONOMY, astragon, astragon Entertainment and its logos are trademarks or registered trademarks of astragon Entertainment GmbH. Cityconomy utilizes NVIDIA GameWorks technology provided by NVIDIA Corporation. Portions of this software utilise SpeedTree® technology (©2014 Interactive Data Visualization, Inc.) SpeedTree® is a registered trademark of Interactive Data Visualization, Inc. Traffic simulation based on CityTrafficSimulator by Christian Schulte zu Berge. Portions of this software utilise The FreeType Project © 1996-2014 The FreeType Project (www.freetype.org). Portions of this software include SilverLining™ technology, and is copyrighted and is proprietary of Sundog Software, LLC. All rights reserved. All other names, trademarks and logos are property of their respective owners.