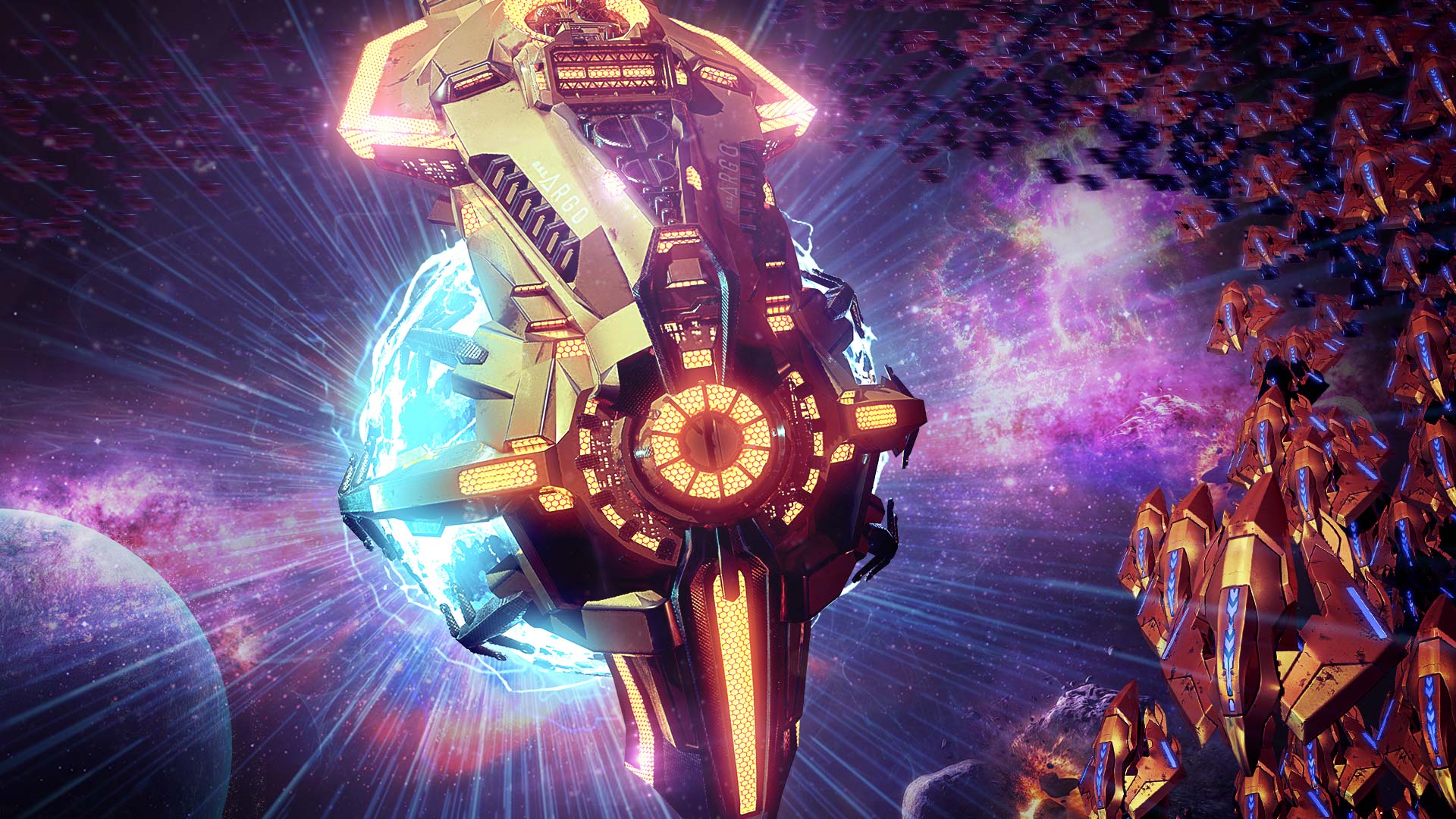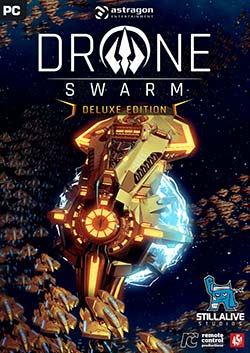 Please choose a platform:
Achievements
Cloud
Single-Player
Please note that the purchased product will contain a Steam-key. After the purchase you will receive the key with all needed instructions via e-mail.
You are Commander Carter, ex-soldier and captain of the starship Argo. Its ultimate weapon: a giant swarm of 32,000 drones. Control your mothership's drones and strategically deploy them to achieve your objectives. Split the swarm to simultaneously defend your ship and attack the enemy. Develop your own tactics and exploit the environment to destroy alien aggressors. Explore the uncharted galaxy with its many dangers and mysteries. Collect resources and acquire new abilities to keep upgrading your ship and drones.

The year is 2118. Earth lays in ruins after huge swathes of it were destroyed by a massive swarm of alien drones. The few human survivors found a way to control the drones and halt the attack. Now that the Earth is uninhabitable, the starship Argo has been sent on the long and dangerous search to find a new Earth somewhere out there in the galaxy.
Discover more about the diverse species of aliens throughout the galaxy in a thrilling storyline. Join forces with either the Voohr or the Dashan and determine the fate of humankind. The decision is yours alone!

Do what must be done to complete your mission. You are the last hope for human civilization!

Besides the main game this "Drone Swarm Deluxe Edition" includes:

1. Official Digital Soundtrack:

All Drone Swarm tracks created by Only Sound in mp3 format.

2. Official Digital Drone Swarm Comic (powered by Michael Bay's 451 Media Group)

Have fun reading the first official digital Drone Swarm comic by Michael Bay`s 451 Media Group (in pdf format). More episodes will be published in paper format soon.

3. Matter-Energy Railgun

Adds "Matter-Energy Railgun" as upgrade to your mothership.
The UMF recovered the prototype for this pre-war weapon and Argo's construction team found a way to install it and adjust it so that it can be fed energy from the ship's main reactor. The slug, made from a drone-shell alloy can sustain near-light speed exiting the weapon and will travel into a matter-energy state to the target - on impact, the remaining matter is instantly converted into energy with devastating results.

4. Psionic Burst Projector

Adds "Psionic Burst Projector" as upgrade to your mothership.
The Order has long since its formation tried to incorporate technology that would enhance - and weaponize - psionic power. The Psionic Burst Projector is a prototype smart weapon that would concentrate psionic power in a powerful pulse that would look for its own targets beyond the first one it's directed at hitting them with focused telekinetic energy. The weapon has been since banned for use on Earth, but the Order felt it would give the Argo expedition a good advantage should it encounter any resistance.
• Control a vast swarm of 32,000 drones.

• Journey through an expansive story campaign featuring around 100 unique star systems and challenging battles.

• Think quick and defeat your alien opponents in fast-paced space battles

• Upgrade your mothership to prepare for increasingly more powerful enemies.

• Use unique abilities like physics and energy attacks to route the enemy.

• Keep adapting your tactics to the ever-changing combat styles of the enemy.

• Use your environment to your advantage and eliminate enemy ships.

• 2 additional weapon upgrades for your mothership

• First issue of the official Drone Swarm comic (pdf)

• Official soundtrack (mp3)
Requires a 64-bit processor and operating system
OS: Windows 10
Processor: Intel Core i5-3570K 3,4GHz or AMD Ryzen 7 1800X
Memory: 8 GB RAM
Graphics: NVIDIA Geforce GTX 660 or AMD Radeon RX 560 3,6 GHz
Storage: 5 GB available space
Developer: stillalive studios

Genre: Sonstige, Strategy
DLC included in this Edition