Copy Protection - Product Verification System
What is the Product Verification System?
This system prevents the wholesale of Steam product keys without the user having to agree to a license agreement. Games should only be run using a legally acquired software license.
How do I activate the game via the Product Verification System?
To activate the game, please insert the game disc into your DVD drive and select Autoplay, or open the "Redeem" file on the disc. The Product Verification System will then start. A corresponding input window will open: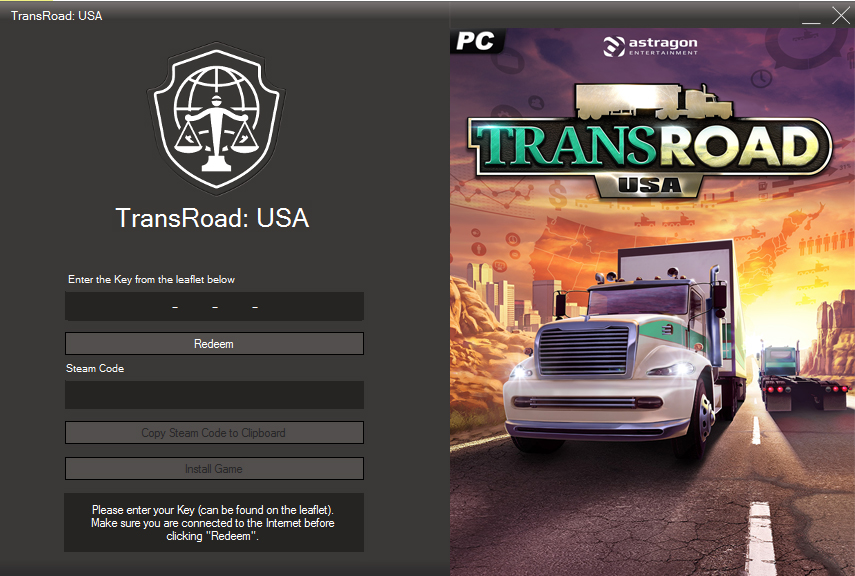 Enter the product key found in the game's packaging and click "Redeem". ATTENTION: An Internet connection is required, so please ensure that your PC is connected to the Internet before activating the product.
The box beneath the "Redeem" button will show your Steam activation key which you can copy to your clipboard or write down. Now click "Install game" to start installing the game. Now enter the Steam key generated by the system into Steam's game installation menu.
Does the Product Verification System require the installation of additional software?
No, verification takes place once the "Redeem" file on the disc is started and a connection to the activation server is established (requires an Internet connection). The installation of additional software is not required.
Can I install a game that uses the Product Verification System on a computer that doesn't have a DVD drive?
A DVD drive and an Internet connection are required to obtain your Steam key. If your computer does not have a DVD drive, you can either use an external drive (connected via USB) or carry out the product verification on another PC with such a drive. You can then use the Steam key generated in this way on the PC of your choice.
If none of the options listed above are available to you, please visit the astragon support website http://www.astragon.de/en/supportfaq/support or our FAQ section http://www.astragon.de/en/supportfaq/faq.
Do I have to use the Product Verification System again if I want to reinstall the game or change PCs?
No, the Steam key is only generated once, after that it needs to be activated on Steam so that it can be linked to your Steam account. If you would like to play and/or install the game again in the future, you only have to log in using the same Steam account.
I have a problem with the product verification or the game installation. Where can I find help?
Please contact us using the supportwebsite listed above and have the following information at hand:
Title of the video game
Detailed description of the problem with a screenshot of the error message
Photo of the activation code and proof of purchase