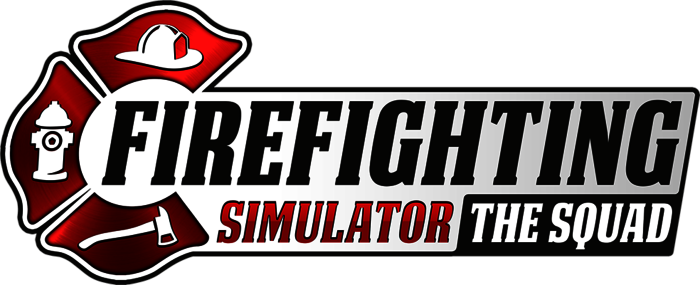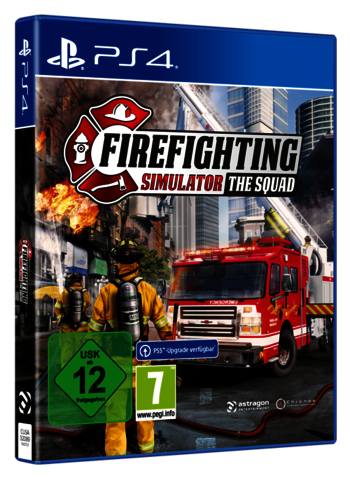 Firefighting Simulator - The Squad
Please choose a platform:
Achievements
Full Controller support
Multi-Player
Single-Player
Fire alert incoming! With Firefighting Simulator-The Squad, you can become part of a major US city's firefighting team and experience how it feels to fight fires together with your 3 friends in the co-op multiplayer, or in the single player mode
UNITED AGAINST FIRE
Firefighting Simulator - The Squad lets you experience what it means to fight fires up close as an active part of a major US city's firefighting team. Discover over 30 diverse deployment locations and complete exciting missions that span a 15k acres large townscape inspired by the North American Westcoast. Operate faithfully reproduced Rosenbauer America fire trucks, extinguish fires, and rescue civilians in need – together with up to three friends in the co-op multiplayer or with the help of AI team members in the single player mode. Also at your disposal is authentic firefighting gear such as helmets, firefighter boots, and a breathing apparatus model by well-known North American firefighting equipment manufacturers.
Fire alert incoming!! What are you waiting for? Every minute counts! Pull on your boots, start the engine of your fire truck, turn on the lights and siren, and take the shortest route to the deployment location to fight the fire and save lives. Whether in the industrial area, the suburbs, or downtown: Your city needs you!
The multiplayer co-op mode allows you to play in a team with up to three friends to save lives and, of course, fight fires. Within the team you are free to assume whichever role that suits you most.
In single player mode, you will experience up close what it means to fight fires in a major US city as the leader of an experienced firefighting team. Thanks to the intuitive command UI, you take control of assigning tasks to your AI colleagues and jump right into the thick of the action yourself.
Advanced fire simulation, including water, smoke, heat, back drafts, flashovers, grease fires, and a wide range of other causes of fires, such as electronics, chemicals, and explosions.
A complex physics system ensures the realistic representation of the destruction caused by dynamically spreading fire.
Drive five licensed Rosenbauer America fire trucks, such as the TP3® Pumper, or the T-Rex® hydraulic platform through a large US city – also in cockpit view.
Use authentic equipment by well-known US firefighting industry brands, such as Cairns®, MSA G1® SCBA, and HAIX®.
Great replay value thanks to 30 different deployment locations, each offering several ways to beat the fires, both day and night.
Comprehensive tutorial, radio communications, and character recordings in English, as well as subtitles in several languages, and faithfully recreated engine sounds for an even denser atmosphere.
A detailed 15k acres large US city with different districts, such as an industrial area, suburbs, and downtown.
Supports standard steering wheels and gamepads
A comprehensive tutorial takes you through the basics of fighting fires.
Developer: Chronos Unterhaltungssoftware

© 2022 astragon Entertainment GmbH and Chronos Unterhaltungssoftware UG. Published and distributed by astragon Entertainment GmbH. Firefighting Simulator, astragon, astragon Entertainment and its logos are trademarks or registered trademarks of astragon Entertainment GmbH. Manufactured under license of Rosenbauer America, LLC, Leatherhead Tools, Wheeled Coach Industries and HAIX®-Schuhe Produktions- u. Vertriebs GmbH. The MSA firefighting product images and the MSA marks are used with permission of MSA - The Safety Company. Unreal, Unreal Engine, the circle-U logo and the Powered by Unreal Engine logo are trademarks or registered trademarks of Epic Games, Inc. in the United States and elsewhere. All other names, trademarks and logos are property of their respective owners. All intellectual property relating to the rescue and firefighting vehicles, equipment, and associated brands and imagery therefore (including trademarks and/or copyrighted materials) featured in the game are the property of their respective companies. The firefighting and rescue products in this game may be different from the actual products in shapes, colours and performance. All rights reserved.