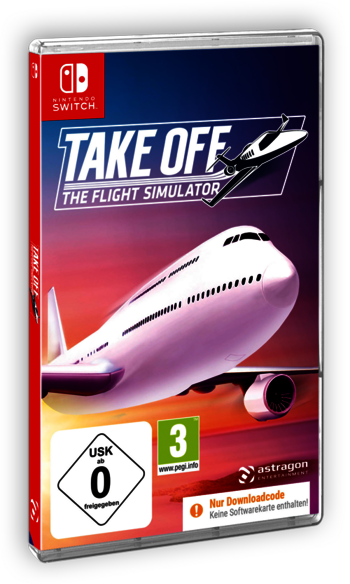 Take Off - The Flight Simulator
请选择一个平台:
Nintendo Switch Edition contains:
Enhanced version with improved graphics for Nintendo Switch™

Fly more than 20 airplanes in an open world or try out more than 40 exciting and varied missions – from airfreighting to dramatic rescue operations! You can also establish your own airline and fly to cities such as New York, London, Sydney and 18 other destinations. Fly the most popular models of planes, such as jumbo jets, seaplanes and a military jet with realistically designed 3D cockpits. Experience challenging weather conditions and try to land your plane safely with an engine failure in this flight simulation game!
• Fly 24 airplanes with realistic 3D cockpits
• Explore and enjoy the beautiful open world of Hawaii in a free flight mode including an all-new job system for transporting goods between airports
• 50 exciting missions – from sightseeing flights under a blue sky to rescue flights in bad weather
• Fly to 21 famous airports around the world
• Start your own airline and expand your fleet
• Customize your planes with different paint jobs and upgrade your fleet for better performance and handling
• Master difficult challenges like bad weather landings or engine failures
• Enhanced version with improved graphics for Nintendo Switch™

Nintendo Switch or Switch Lite
© 2022 astragon Entertainment GmbH. All rights reserved. © 2022, Jujubee S.A. Jujubee® and the Jujubee logo are registered trademarks of Jujubee S.A. All content, game titles, trademarks, logos, brand and company names are the property of their respective owners and/or licensors. All rights reserved. Nintendo Switch is a trademark of Nintendo.